If you're a deer hunter and you've had success, you're probably ready to progress to larger bucks. But your region may not have trophy deer. In that case, you'll be eager to know what state has the biggest deer. Let's take a look at the states with the largest white-tailed deer, moose, elk, and mule deer.
States with the Biggest Deer (by species)
You'll find the largest white-tailed deer in Wisconsin, while Alaska has the largest moose. The biggest elk, on the other hand, are in Washington State, and the largest mule deer can be found in Colorado.
White Tailed Deer – Wisconsin
Mule Deer – Colorado
Elk – Washington State
Moose – Alaska
In the following article we'll get more granular about this information, including specifics about the counties in each state where the most record deer have been recorded, and what you need to know about hunting deer in each of these states.
Let's start with the type of deer that is most widespread in the United States.
What State Has the Biggest White-Tailed Deer?
Of all the states in the United States, Wisconsin tends to have the biggest white-tailed deer. That is why it's such a popular hunting destination.
Wisconsin
Experts have found that Wisconsin is the best state for finding and hunting the largest white-tailed deer. This state has the most records for large deer, and it currently has 1,822 entries for record-setting white-tailed deer.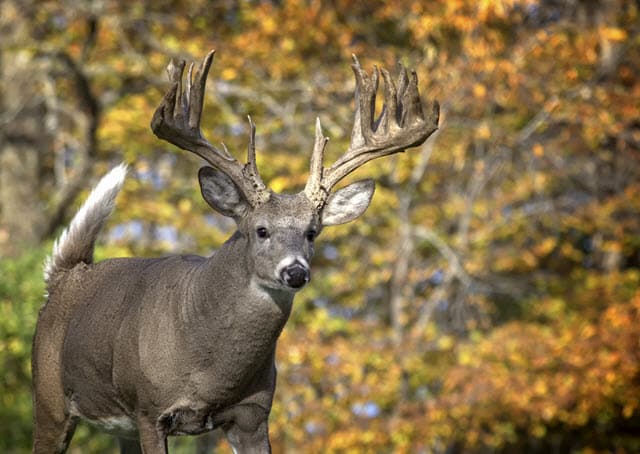 Overall, Buffalo County is the area of Wisconsin with the largest deer in the state. This county has contributed 150 record-breaking entries.
Be aware, though, that this county isn't a high-producing area when it comes to numbers (deer population). If that is what you're looking for, you should visit Dodge, Columbia, Kenosha, Wood, and Burnett counties.
How to Hunt Deer in Wisconsin
Wisconsin has plentiful hunting land that is open to the public. Of course, you must learn all the state's hunting rules and regulations.
You must also be aware of the state's deer hunting season.
There are several factors that determine when you're allowed to hunt. One of these is the type of weapon you're using.
There are other factors that play a part in determining when you are allowed to hunt. Of course, you must get a valid Wisconsin hunting license for any and all kinds of hunting in this state.
Other States with Big White-Tailed Deer
There are several other states where large white-tailed deer are often found. Let's explore them below.
Illinois
Four Illinois counties are among the top 20 in the country when it comes to deer population. These are Pike County, Jo Daviess County, Adams County, and Fulton County.
However, the largest deer in the state tend to be in Macoupin, Greene, Macon, Peoria, and White counties.
Iowa
Monroe, Plymouth, Des Moines, Hamilton, and Decatur are the Iowa counties where the largest bucks have ever been found.
Minnesota
Like the other states on this list, the largest bucks don't tend to be found in the areas with the most deer populations.
The best Minnesota counties for large deer include Wright County, Aitkin County, Lake of the Woods County, Beltrami County, and Kittson County.
What State Has the Biggest Moose?
Moose are the largest animals in the deer family. And without question, Alaska is the home of the largest moose in the United States.
Alaskan Moose
The Alaskan moose is the largest and heaviest moose of all the moose subspecies. In fact, they're the largest game animal on the planet.
Alaskan moose live in Alaska and reach all the way to the area near the Northwest Territories of Canada. There is a large population of Alaskan Moose in Alaska, and hunters enjoy going there to hunt these animals.
If you're an American citizen, you can go on your own to hunt Alaskan moose in Alaska. Of course, use common sense. The terrain is treacherous.
If you're an inexperienced hunter, this probably isn't the region where you want to start your hunting career. Moose, and especially Alaskan moose, are enormous and may be aggressive.
With a guided hunting tour for Alaskan moose, you will probably have a much higher success rate than you would on your own.
There are different levels of guided tour available. If you go for a fully guided hunting tour, you may enjoy a success rate of more than 75%.
Most hunters looking for Alaskan moose will choose to go on a guided tour. The hunting season for Alaskan moose is in September.
If you're hunting Alaskan moose, you will need a moose tag. One way of getting this tag is in a moose tag lottery.
In some cases, a lottery draw is the only way to get one of these tags. But sometimes it's possible to buy a moose tag over the counter.
Most of the time, you may only hunt mature bull moose.
Moose Hunting Information
The moose's size compared to other deer and aggressive nature make hunting it significantly different from hunting other deer species. Not only is it more dangerous, it's much more difficult to transport a moose carcass.
That is a major reason why it's usually not a good idea to hunt moose by yourself. Moose hunting is usually a group activity, and accepting the guidance of a seasoned moose hunting tour guide is key.
Generally, spot-and-stalk hunting methods are the best when it comes to moose. Your moose hunting guide will probably lead you to areas with a lot of willow.
Stands with large amounts of aspen and birch are other promising locations.
What State has the Biggest Elk?
Oregon and Washington are the states with the largest elk. North America has several different elk subspecies. The Roosevelt elk is the North American elk subspecies with the largest average body size.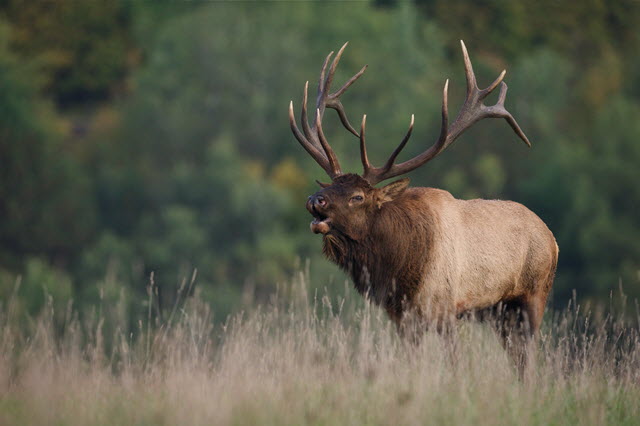 The Roosevelt elk is so large that bulls may weigh as much as 1,200 pounds. Female Roosevelt elk (also known as cows) can be as heavy as 600 pounds.
Washington and Oregon are the states where you will find Roosevelt elk. That is why these states are the ones where the biggest elk are located.
The average weight for Roosevelt bull (male) elk is 900 pounds.
This is significantly larger than the Rocky Mountain bull elk, which has an average weight of 700 pounds
What State has the Biggest Mule Deer?
Colorado is the state with the largest mule deer. That is why so many hunters travel to this state to hunt this animal.
Many parts of Colorado feature outstanding habitats for mule deer.
There are also plentiful food sources, and Colorado Parks and Wildlife is known for its excellent management.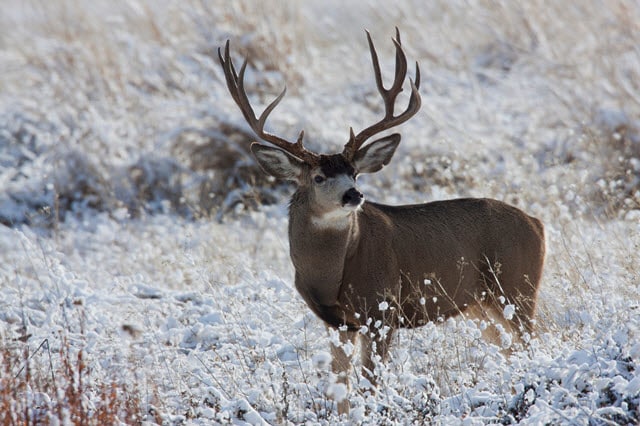 There are so many enormous male mule deer in Colorado that this state takes the record on an annual basis. You must take part in a limited tag draw if you want to hunt mule deer in Colorado.
Luckily, there are many different regions, or units, where you can take part in these draws. You don't have to limit yourself to units considered "trophy units."
Best Places in Colorado to Hunt Mule Deer
There are many different places in Colorado where you can find excellent mule deer.
The eastern plains of Colorado tend to be one of the best places to find large bucks. Unfortunately, there aren't many public hunting lands in that area.
You will find many public lands in the western part of Colorado, though.
While Colorado definitely wins the prize for the largest mule deer, Idaho is another great state for finding large specimens of this animal. This state also has large numbers of mule deer.
One of the advantages of hunting in Idaho is that you can directly purchase tags for hunting mule deer over the counter. This is an unusual advantage, as not many states do this.
An over-the-counter mule deer hunting tag is sufficient for many hunting scenarios in Idaho. There are some situations, however, where you will be required to apply for participation in a controlled hunt.
Final Thoughts On States With the Biggest Deer
You can find and hunt trophy-winning bucks but you have to know where to look. Now you know which states hold the largest deer in a variety of species.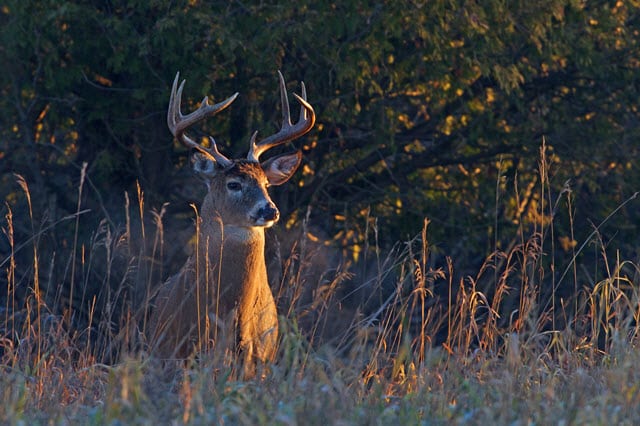 Let's review the states with the largest specimens in each deer species:
White-Tailed Deer: Wisconsin
Moose: Alaska
Elk: Oregon and Washington
Mule Deer: Colorado
.